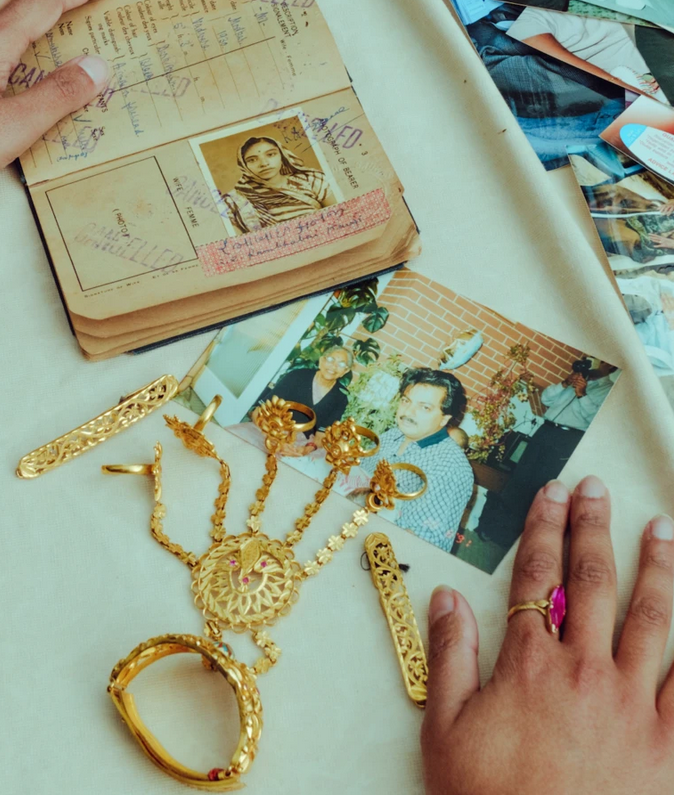 We are pleased to share some exciting creative news with you…Indy will be supporting Anisha's journey with her DYCP Empowered Adornment project. Such exciting news needs to be celebrated because this Designer has big plans which we are thrilled to be supporting over the coming months.
Posted in Feb2021, Anisha talks about her project…
I am pleased and excited to announce that I have been awarded an Arts Council, Developing your Creative Practice Grant for 2021. I have been awarded this grant to reestablish my artistic practice by having dedicated time and funding for research and development, to be immersive in my exploration and take creative risks.
I plan to develop my artistic language for the next 12 months by visually exploring adornment in the South Asian Diaspora. In particular, I will be looking at: jewellery collected through journeys of migration as artefacts with the capacity to be carriers of emotions and memories; gold as a woman's security within the context of historical and contemporary diasporas; and adornment to express cultural heritage. I am seeking to open a dialogue and document conversations with those who belong to the South Asian Diaspora, and who have collected or been handed down precious pieces of jewellery/adornment, to talk about what these pieces represent to them.
My ambition for this year is to push my boundaries and work on body sculptures that bridge the gap between fashion and art. I intend to explore these themes more overtly thereby creating a platform to engage new audiences in dialogue around my work. The DYCP will allow me to step out of my commercial confines, enabling me to reposition and redefine my practice to explore crucial themes in a creative and engaging ways.
I will also be working with a series of mentors throughout this year, beginning with Rajinder Dudrah, Professor in Cultural studies and Creative Industries at Birmingham City University. I am looking forward to taking his guidance for my academic research theories and methods and developing the narrative for this project.
A huge thank you to the Arts Council England for this funding, to my mentors for being the part of this journey, and my family for sharing their stories – I hope their legacy can live on through my work.
Follow my journey of research and development here:
https://www.anishaparmar.com/blogs/news
https://www.instagram.com/anishaparmarlondon/
If you want to connect with Anisha directly, her contact is: hello@anishaparmar.com
Main Image Credit: Ofilaye.