The Apna Heritage Archive is bringing together a collection 2000 historic photographs and memorabilia relating to Punjabi migration to Wolverhampton from 1960 to 1989. Creating 75 present day portraits from within the Punjabi community.
This is important to the local Punjabi community in Wolverhampton because it acknowledges and celebrates its presence. It is also of interest to the wider Indian and Asian communities in the city because the project's existence sends out a powerful welcoming message i.e. 'celebrating the other'
Anand Chhabra has curated an exhibition from the 2000 image archive relating to Punjabi migration to Wolverhampton dating from 1960 to 1989. These rarely seen photographs give an insight into family life, customs and integration into life in the UK.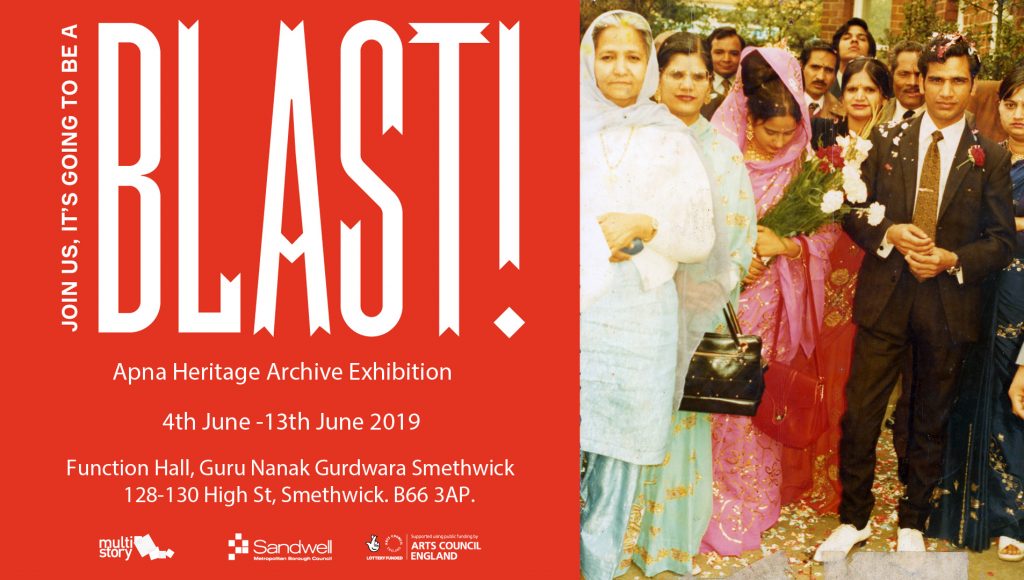 For Blast!, Anand has, through the impact of this exhibition, aim at increasing the collection from the Punjabi community in the Black Country in 2019. The Exhibition for this opens on Friday 7 June 2019 to the public.
This commission is part of the Forge Artist Open Call Programme which invited 12 West Midlands artists and/or curators to make new bodies of work for the Blast! Festival and take part in a mentorship programme.
Come view and experience the Apna Heritage Archive for yourself. An Archive that fully represents the community in which it is rooted from, and who continue to support the growth of the Archive.
Exhibition Details:
Opening: Friday 7 June
Where: * Guru Nanak Gurdwara, 128-130 High Street, Smethwick, B66 3AP
Artist Talk with Anand Chhabra:
When: Friday 7 June at 6 pm – Although this is a FREE event, booking is essential and can be done here.
Where: Function Hall,  Guru Nanak Gurdwara, 128-130 High Street, Smethwick, B66 3AP
An opportunity to hear Anand Chhabra talk about the Apna Heritage Archive and gain an insight into this wonderful collection of images.
* Smethwick Gurdwara is an active place of worship for the Sikh community. Please come with a head scarf, or similar to cover your head for the duration of your visit. You may also be asked to remove your shoes. If you have any access needs, do get in touch with richardwarren@multistory.org.uk so we can make your visit as comfortable as possible.
Blast Photo Festival is brought to you by Multistory with support from Arts Council England & Sandwell Council.
Full festival listings of all activity can be found here.
Raghwir Kaur on holiday in Blythe in her first car 1975 © Apna Heritage Archive.