Herbert Lates returns for an evening of music, dance, light and colour based on the Crafts of the Punjab Exhibition.
The evening includes a mix of exciting artists all encouraging you to come along and have a slice of the fun!
Painting With Light – Artist GSian will be using iPad projection technology to create a giant temporary mural drawing influence from the Punjabi language. GSian will be creating the piece throughout the evening inside the Herbert, come and join in the fun and take part in influencing the artwork! This demonstration is brought to you by An Indian Summer.
Eternal Taal – The award winning Eternal Taal is the UK's only all female Dhol troupe. Regulars on the festival circuit they bring with them a feast of colour, sound and movement. Their work includes performing to wider audiences promoting and educating people of Bhangra music.They will alongside their performances be delivering a workshop at which you too can join in.
Herbert Lates are celebrated for their hands-on making activities. This month artist Saj Fareed, of Pull and Pin invites you to explore patterns and to make your own colourful 'stained glass window' through play and collage techniques in this sociable make and take activity.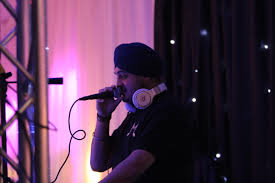 Pritpal Singh aka MixSingh will be presenting us all with some incredible music all night…keeping the flow of the evening going.
A museum curator and cultural consultant, Rajwinder Pal will be delivering a short immersive performance piece with Tarun Toor, bringing to life the history and influence the golden throne of Maharaja Ranjit Singh had, to convey the secular, tolerant and creative essence of the Lahore darbar, its eventual fall and the removal and exile of the last Maharaja of Punjab, Duleep Singh'.
The Herbert Late event is free, over 18s only | Book online in advance
More information on the Herbert, their full programme and how to get to the venue here.
The Herbert can also be found on Twitter, Facebook and Instagram.
This Herbert Late has been programmed by Kala Phool.