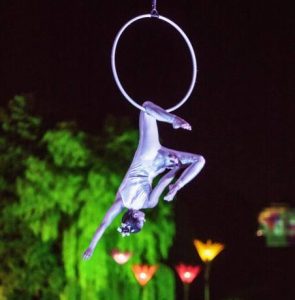 TONIGHT is the night!
Princesshay and Visit Exeter previously announced dates for two large-scale street performances coming to the city centre this festive season…starts tonight.
The first of the two free shows is 'Arco', a magnificent fifteen minute display of acrobatics, performed to music from a 12 metre high inflated arch. Three 15 minute performances starting at 5pm, 6pm and 7pm will wow shoppers in Princesshay Square on Thursday 30th November. The giant arch features its own light show, changing colour while framing the amazing aerial performer.
The second street performance, Spark! will take place on Thursday 7th December.
Head to www.Princesshay.co.uk to keep updated on all Princesshay Christmas events. For Christmas events taking place throughout Exeter, visit www.visitexeter.com/christmas.
Bring family and friends and enjoy the performance! Visit Exeter.
Its been an absolute privilege to be working with Matt Constantine, Trevor Walker and The Dream Engine.
Cant wait to see where this project takes us in 2018
🙂
So if you are a booker/producer/festival/all round brilliant person who spots amazing things…then get in touch for booking inquiries on indy@kalaphool.com or via The Dream Engine's site.
If you are going to be watching, do let us know what you think of it by tweeting us on @kalaphool
#HayChristmas #aerial #lights #music #spectacle #outdoors #premiere #special #partnership #excited